If It Weren't for All These Customers We Sure Could Run This Railroad!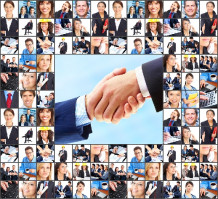 Years ago, when Yoda was just a mere wisp of a lad, I remember hearing this phrase uttered by an official from the old Penn Central Railroad in a television interview in the months just prior to the formation of Amtrak. It was said somewhat in jest, but with enough feeling, that there was more than a little truth to it. They had so many passenger customers that were detracting from their more profitable freight business. And do you think that attitude came across to its customers? No doubt!
Virtually, every entrepreneur I've ever talked to about how they treat their customers tells me they are a "customer-driven" company. But so often their actions speak far louder than their words. Regardless of whether you are an early stage company with just a few customers or later stage one with hundreds or even thousands, your actions dictate how important your customers REALLY are to your small business.
Here are some guidelines to moving your company to a far more "customer-driven" operation:
Customers Pay Our Salaries - Respect Them and Keep Them Happy!
This is an attitude and awareness that should start from your first customer and/or your first employee.If you, as the owner, hold the customer in high esteem and treat them with respect, that will become a "way of life" in the company. Going the "extra mile" for a customer will simply be the way you do business.That should start with "first impressions" - how the phone is answered and what your website says to customers. And, typically, happy customers make additional purchases and happy customers beget other customers that you can make happy.
Give Customers a Voice
As early as possible in your company's life cycle, create a sense of community, finding ways to have customers interact both with each other and with the company. Ultimately, this should manifest itself in a users' group. But early on you could set up an a customer advisory group, made up of key customers, with whom you meet on a periodic basis to get a sense of market issues, product issues and potential future requirements. If you have a blog, offer customers a periodic post. Think about developing case studies that highlight customers and their application/use of your product or service. Finally, think about conducting an annual customer survey (ask customers to help you with the questions) and then be sure to act on what you learn.
Make Support Accessible 24/7
This doesn't necessarily mean it needs to be staffed 24/7, but be sure a customer can reach a support person outside of your company's normal business hours, especially if your product or service is cloud-based (if it's down they have no alternative) or addresses a mission critical application in a customer's operation. Maybe it just means somebody is on call every day during non-business hours. With smartphones, Skype, etc., there's really no excuse to not be able to communicate.
Track Support Issues
All support issues should be assigned a priority level and then tracked until closed.Establish escalation procedures as the issue ages. Publish the issues to your staff using whatever technology optimizes dissemination, so everybody is aware of a potential customer problem. Don't let ANY issue remain open for more than a few weeks without, at least, a follow-up email or call from the support team, or, if necessary, the owner.
As a practical matter, without customers you have no business.Keeping and growing them is key to having a successful business. Creating a business that is "customer-driven" means making the customer first, always!
"The Entrepreneur's Yoda" knows these things. He's been there. May success be with you!
Feb 9, 2013
by