Growth Challenges/

Creative Solutions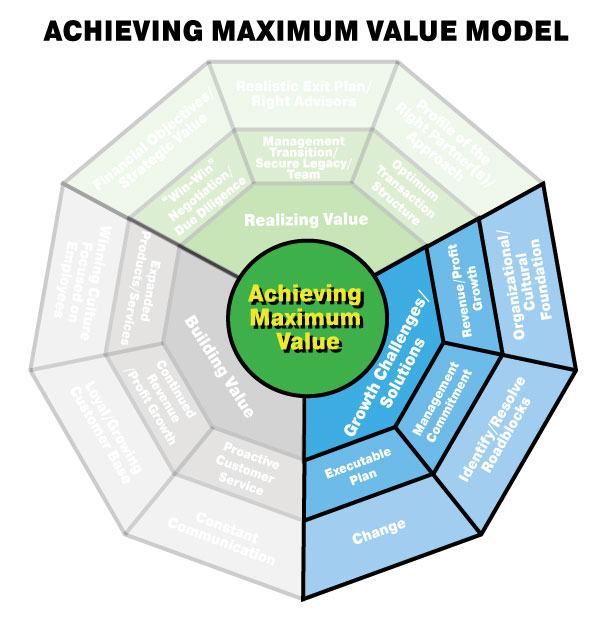 It's hard to grow.

You reach a certain revenue level and can't seem to break through that level…sometimes for years. And you're not really sure why. You've tried a half dozen different strategies and tactics with little or no results.

But no matter how hard you try, self-assessment is, at best, very difficult; at worst, impossible. You need an objective look. One that will understand your business, in-depth, both its strengths and its weaknesses and not be afraid to call out obvious roadblocks that exist, that are causing problems or raising issues, regardless of longstanding policies, procedures or people. Nothing is sacred!

But just as important, be able to put an executable plan together that leverages those strengths and corrects those weaknesses, removes the roadblocks and focuses the company on the changes that will enable both revenue and profit growth.

What this takes are two things: a commitment by ownership and senior management to change…and the Entrepreneur's Yoda's unique experience, process and services.


Advisory Services
Review, Assessment and Plan
In-depth business review – products/services; markets served; financial history/position; current strategies/plans; organization.
Identify the strengths, weaknesses, roadblocks and issues that are delaying or impacting growth.
Determine the cultural environment to determine how it has to change to form a foundation for the future growth.
Develop a plan with strategies and tactics for revenue and profit growth that leverages the strengths, corrects the weaknesses, addresses the roadblocks and issues and lays the foundation for a winning organizational culture.
Execution/Ongoing Advisory
Assist and advise on the execution of the plan to make growth happen.
Ongoing involvement to ensure that the company stays on course and advises/helps with course correction, as necessary.
Assistance in laying the foundation for a winning culture.
PEER-TO-PEER ADVISORY
A unique, virtual 90-minute monthly coaching, teaching and peer advisory group where we match up non-competitive businesses of similar size ranges but in different industries. Each roundtable participant raises their key issues with the group, who provide feedback from their own experiences with similar situations and "The Entrepreneur's Yoda," provides advice, counsel and lessons from my experience. Quarterly, there is an outside speaker, who brings a specific functional view on particular growth problems, issues and solutions from their breadth of industry experience.
Experience
I've been helping small businesses like yours for more than 35 years achieve the maximum value for their business by learning how to understand growth challenges better and then help them find the solutions that breakthrough various growth levels. Through my own companies, multiple turnarounds, and with more than 300 clients over the years, I've helped countless small businesses achieve value far beyond what they ever expected, growing their business.
Video
I've developed a video that embraces six principles of growth that I have learned through my experience, if executed properly, will get your business back on the right path toward growth, almost regardless of the environment.
View Overcoming Growth Challenges Video
CONTACT
Email "The Entrepreneur's Yoda" at lsciambi@thevalueforce.com to set up a time to talk about your specific situation. Or better yet just schedule some time - https://calendly.com/entrepreneursyoda/30min?month=2023-04