Building
Value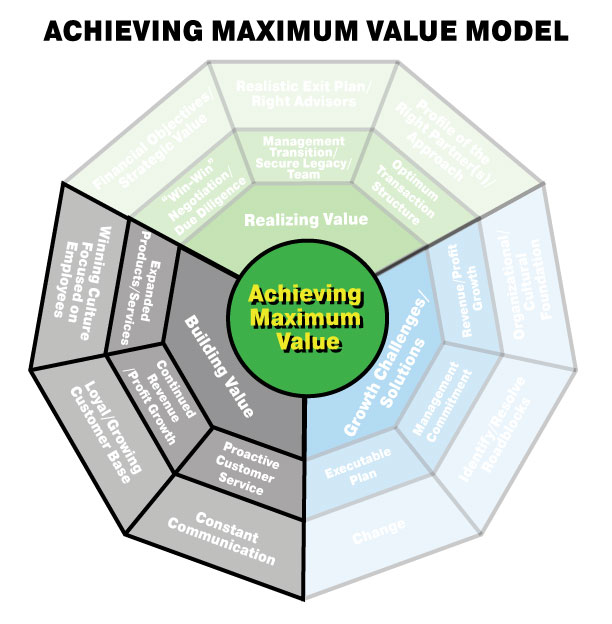 Building value starts with a culture that attracts and keeps great employees and emphasizes teamwork and accountability. The foundation of this culture starts with smart hiring and creating an environment of mutual trust and respect; holding employees accountable by defining their roles and responsibilities and giving them the authority to carry them out; encouraging risk-taking; communicating constantly, and above all else, making fun a major part of that culture.That, in turn, helps you facilitate and maintain a loyal customer base by making every customer feel like "they are your only customer;" by communicating constantly, and getting employees to embrace a "customers pay our salaries" attitude. Finally, it gets solidified by making customer service a critical and a respected function within the company.But then it's how you continually reinforce that culture and grow that customer base that really builds value. That means providing as much incentive to your sales team to not only grow the existing customer base, but expand it as well. It's giving customers a "voice" in product development and customer service…and listening and building on that feedback.
Advisory Services
Review, Assessment and Plan
Review and assess the current organization structure to better understand roles, responsibilities and depth for growth and managing that growth.
Review and assess the current culture and role employees play and how customers are viewed and how interaction takes place with both.
Identify the business' critical strengths, so they can be best leveraged, while correcting obvious weaknesses.
Review and assess current operating plans and key existing and planned products and services that will drive growth and, in turn, build value; determine how those plans need to be modified to take into account culture, more employee involvement, better customer interaction, strengths and weaknesses to better achieve results.
Modify operating plans, as necessary.
Execution/Ongoing Advisory
With the execution of the plans, sharing in value creation as both a goal and a result with employees; showing how better customer interaction can further create that value.
Identifying and beginning planning for an "end game" for realizing the value built.
Periodic workshops – full day w/one day review prior; ½ day review after, at key milestones in the plans.
Experience
Having managed, turned around and grown more than a dozen companies, Yoda can show you how to create a culture that builds value and gets employee buy-in and customer satisfaction. Value that you can ultimately realize.
Videos
Loyal/Growing Customer Base
Expanded Products/Services
Winning Culture Focused on Employees
Customer Service
CONTACT
Email "The Entrepreneurs Yoda" at lsciambi@thevalueforce.com to set up a conference call with you and your management team to talk about your specific situation.