Entrepreneurs, You Pretty Much Always Get What You Pay For.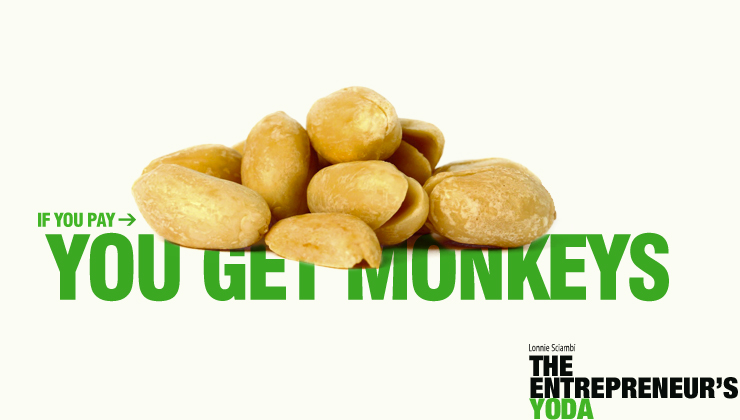 Most entrepreneurs (at least the ones who want to stay around for a while) watch every penny, especially in the early going. But there's difference between being fiscally conservative and just plain old "cheap!" The trick is knowing what you're "really" paying and what you're "really" getting in return. And, this is critical when dealing with both employees and suppliers.
Recently, talking to an entrepreneur whose business was growing very rapidly, he lamented about how hard it was to get and keep good people. Further probing determined that he was proud of the fact that he kept salaries well below market.
I asked if he had any kind of incentive program or stock program based on performance and he said he felt the company could not afford that during this rapid growth.
Then I asked the two big questions. How much did those employees contribute to that growth? In what other ways, beyond cash compensation, were employees recognized?
His response? A lot and none, and he had the answer to his original dilemma.
No doubt about it. You pretty much always get what you pay for. And that applies not only to employees but to suppliers as well.
The lowest cost parts don't always translate into lowering the cost of a product. Sometimes, you sacrifice quality at the expense of cost and then you pay for it in the long run through returns and extra support calls.
And what you pay isn't necessarily always measured in the value that's shown on the payment.
Employees - tie compensation to challenge and success.
It's been my experience that to an employee their "real compensation" is about 60% of what they actually take home plus what he/she can earn in the future bonuses or stock; and about 40% of how much they feel valued and challenged. So in the early stage of a company's life, when you necessarily need to watch all expenses, is when you can get by with low compensation packages by providing new employees with a challenging environment where their efforts most directly contribute to the success of the business.
On the other hand, low salaries coupled with few if any "perks," while driving people to go the "extra mile," usually, result in disgruntled employees. Perquisites as small as a "pizza lunch" a couple of times a month or letting people off a few hours early before a big holiday don't cost much but at least show that while you're being fiscally cautious, you appreciate their efforts and you aren't afraid to spend on small things.
The entrepreneurs who "get it" learn to tie compensation to company success by providing opportunities for bonuses and employee ownership, while at the same time continuing to recognize their efforts, publically.
Employees - respect, challenge and professional growth begets loyalty.
This is not that hard, but is, often, overlooked by entrepreneurs. Employees don't just need to feel valued. They need to grow...if you want to keep them. When they feel that their talents are being well utilized and challenged, they are being trained or cross-trained to do additionally functions, they are growing, professionally, and often, personally.
And this helps the company as well, making employees more versatile. When employees feel stuck in a "dead end" position or in a "sweat shop" environment, it ends up costing the small business way more in the long run, with disenchanted employees becoming less productive and, ultimately leaving, requiring the company to have to go out an hire and re-train new staff, often at added cost.
Suppliers - if it sounds too good to be true, it usually is.
When you get a price from a supplier that is well below what you've expected or what you have usually paid for the same item, there's usually a reason. Maybe the supplier is new to the market and is trying to buy a way in. Or, maybe the item is a knock off version of something that has much more quality.
In any event, first thing to check is the supplier's/item's reputation and the second is to determine how you're going to measure/test the item's quality. If it's a commodity item and there is serious price change, red flags should go up. Like the old Fram Oil Filter commercial tag line, "you can pay me now, or you can pay me later," you'll pay one way or another. Either, in decreased quality, increased support costs or increased pricing on the next purchase.
Suppliers - they are often entrepreneurs just like you.
When dealing with suppliers there are similar parallels to employees. If you continually "beat up" suppliers over pricing, they are unlikely to "go out of their way" to meet emergency delivery requirements, plus if they have to "cut corners," yours will be the ones that cut. On the other hand, if you work with your suppliers, making sure that negotiations are "win-win," you create a partner, instead of just a supplier.
It's important for entrepreneurs to manage their cash, but prudence and good judgment should always prevail. No matter whether with an employee or a supplier purchase, you pretty much always get what you pay for!
"The Entrepreneur's Yoda" knows these things. He's been there. May success be with you!
Have you been caught up in trying get too many "bargains?" Please share your thoughts in your comments. It can help another entrepreneur.
If you like this post, by all means, share it with your networks and colleagues.
---
Related blogs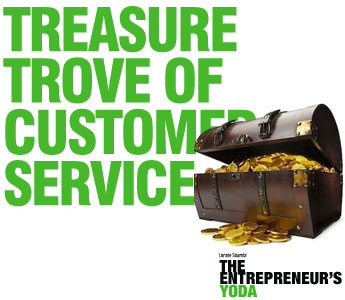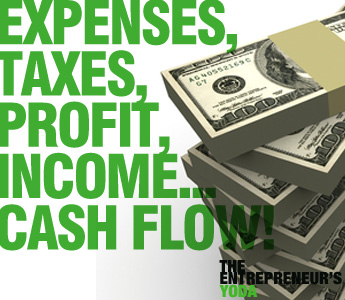 ---
Jan 1, 2014
by