As the Owner of Your Small Business, You're Never Wrong, Right?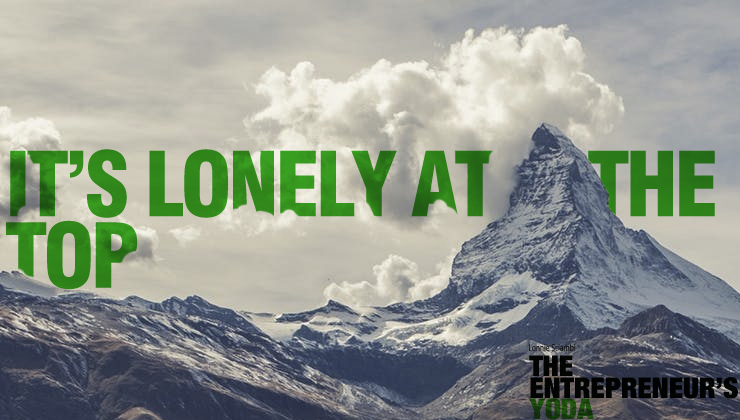 For most entrepreneurs or small business owners, when it comes to decisions about their business, they know best. And is it any wonder? Starting a business puts you in a unique position. Besides the risk of failure, typically, starting out, it's just you.
Unless you are one of the few that starts out with an advisor or mentor, there's no real sounding board for decision-making. There's nobody to help guide you through right and wrong. You do the best you can with what you have and know. And, usually, that continues as the company goes through the early stages of the company's growth.
Build a "database" of experiences
You kind of get used to making all the decisions without either anyone's help or guidance. And that continues, maybe even after you've hired your first and, perhaps, even more employees.
In short, you are always right because there's no one to question even your wrong decisions. So you continue always being right (and of course, you're not always). It's a hard habit to break, but it's also one that can easily stagnate growth, if not, ultimately, "take you off a cliff" with a "bet your company" decision that you shouldn't make.
You aren't always right. You know that. But, correct or incorrect, you end up depending on that person in the mirror staring back at you. It's also never too late to change. And being the only decision-maker is a lonely existence.
Here's some guidance to help you with that change, or if you're still in the early stage of growth help aim you in the right direction:
When you started your business, it didn't come with new talents for you.
This is something I used to preach to young managers when I promoted them. I promoted them because I thought they had the potential to be more than they were; to be a leader. Same thing
when you started your business
. You were betting on yourself to be more than you had been as a worker or a manager. You had a business to run. But the same talents that you had before you started the business. The same strengths to build on, the same weaknesses to be aware of and, if possible, correct.
Hire smarter/more experienced people than you.
To make you and your company better, you need to "fill in the holes" of your weaknesses and the company's. Find the smartest people you can afford (even pay more for them if you have to). And find potential teammates who have a deeper experience, especially, in the company's target market and applications, as well as in management. Clearly define their responsibility, give them the authority to do their job. And allow them to use it, so you aren't making all the decisions, anymore!
Allow your employees to fail and use it as a teaching/learning moment.
I wrote an
entire blog post
about this. This goes "hand in glove" with the previous recommendation about hiring better and delegating authority. You want them to use that power to make sound decisions and to take prudent risks. But like you, they won't be perfect (even if they are more experienced). But you do want them to take responsibility if they make a mistake, learn from it and not make the same one again. Most of all, highlight the error as a teachable moment for them and others in the company, to build on, as opposed to finding blame.
Invite and listen to criticism from the "outside."
Find "sounding boards" who are either advisors or peers that you can talk to, confidentially. Ask their advice about knotty problems that maybe you can't talk to your immediate team about. Especially invite and accept criticism as it is delivered about either company direction or high-level decisions that you've made.
Admit when you're wrong and use it as a teaching/learning moment.
Further, invite the same sort of discussion with your team about critical decisions that you've made that don't seem to be going where you either expected or wanted. Most of all listen. And, if possible, act; either reversing your decision or modifying it, if it has proven to be unworkable.
And if you were wrong (especially when team members may have been opposed to the decision made), admit it and use the experience to try to learn how you could have done it better. In effect, a teachable moment for you.
When your team begins to see that you know you are human, it goes a long way to making the team function better.
Never stop learning and growing as a manager and leader; find your style.
You should never stop learning and grow as both a manager and a leader. Go to seminars, attend webinars, read books. Join a peer advisory group. Find an advisor that fits your personality and your business. Build a "database" of experiences from other entrepreneurs, from your team, from your personal experiences and learned advisors and teachers.
Embrace approaches that fit your personality and your style. And then use them to upgrade and continually modify how you manage and lead. And grow your business!
Being the only decision-maker is a lonely existence. When you're first starting out, you have no choice. But as your company grows, you have to let go to realize that growth.
Critical decisions need to be made correctly for that progress to happen. The more you can delegate that decision-making and learn from it, the more sustained and fruitful that growth will be. It's not about being right it's about making the right decisions, correctly.
"The Entrepreneur's Yoda" knows these things. He's been there. May success be with you!
As an owner, have you been guilty of never being wrong? Please share your thoughts in your comments. It can help another entrepreneur or small business owner.
If you like this post, by all means, share it with your networks and colleagues.
---
Related blogs
---
Apr 10, 2017
by