How Do You Build Value in Your Business?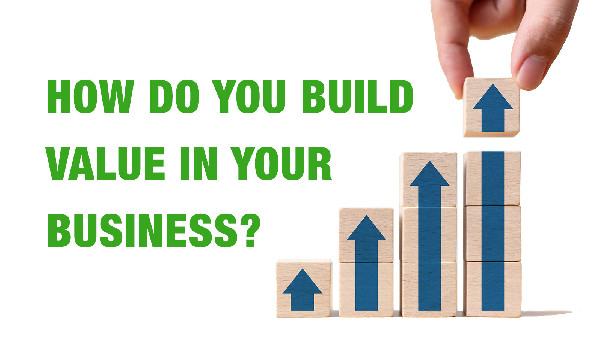 Value is like beauty. It's in the eye of the beholder. What's valuable to you might mean way less to me. But no matter, value is the only thing that really matters whether you're investing time, money, or talent in an endeavor. It's what you have at the end of the day, whether that be personal or professional growth, a great ROI, or just the satisfaction in a job well done or an outstanding effort.
It's the value you get from your investment. That's what really matters.
But for small business owners grinding away every day, trying to grow their business, building value is often the last thing they are thinking about. And their "end game" may be simply survival. The late Dr. Stephen Covey put it best - "you have to begin with the end in mind."
But few small business owners focus on value while planning and growing their business. Fewer still on their "end game." It's growing your business and building value that provides a return on your investment of capital, time, and effort when you are ready to exit your business and realize that value – your "end game."
So how do you focus on building value? You work on contributions to that value. Here are some critical contributions to work on:
The Culture Contribution
Building value starts with a culture that attracts and keeps great employees and emphasizes teamwork and accountability. The foundation of this culture starts with smart hiring and creating an environment of mutual trust and respect and continually reinforcing your culture and using it to grow your customer base. Above all else, making fun a major part of that culture.
The Accountability Contribution
Holding employees accountable by defining their roles and responsibilities and giving them the authority and resources to carry them out; encouraging risk-taking and allowing employees to fail as a teachable moment.
The Communication Contribution
Communicate constantly. That, in turn, helps you facilitate and maintain a loyal customer base by making every customer feel like "they are your only customer," by communicating constantly and getting employees to embrace a "customers pay our salaries" attitude.
The Customer Service Contribution
Making customer service a critical and respected function within the company. Not just giving it lip service but responding to problems as they occur and following up. Reaching out as opposed to not just waiting for customers to call in.
The Sales/Customer Contribution
That means providing as much incentive to your sales team to not only grow the existing customer base but expand it as well. It's also giving customers a "voice" in product development and customer service…and listening and building on that feedback.
Not enough small business owners realize the importance of value, what these contributions mean while growing their business and creating that value. And way less focus on their "end game." It's all about value, how you grow, build and, ultimately, realize that value with your "end game." Building that value is what provides a return on all the investment of capital, time, and effort that you put into it when you are ready to exit.
"The Entrepreneur's Yoda" knows these things. He's been there. May success be with you!
Sep 10, 2021
by