"Tap the Gray Hair!" - Creating and Using an Advisory Board/Board of Directors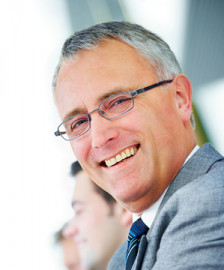 Every entrepreneur needs mentoring and advisors. You can't get enough good advice. And there are more than enough grizzled veterans with gray hair to tap for that advice. However, at the end of day, how deep and what you get out of this advice really depends on how you want to use your advisors. There are two types of boards that you can use - an advisory board or a board of directors.
Typically, an advisory board is an ad hoc group that you might meet with or talk to either, individually, or as a group, primarily as a sounding board. You can always use an advisory board. These folks will make themselves available, as necessary, but it usually won't be on a formal schedule or setting. Plus, a typical advisory board, at least early on, will provide that advice for free. Two-edged sword. There will, usually, be a limit to how much time these advisors will give you, since they are doing it gratis (although, you might find folks like me who enjoy the mentoring so much, that they give advice whenever and wherever requested). Second, a word of warning. Always remember, unfortunately, "free advice is worth what you pay for it." With no stake in the venture, much of the advice can be both "out-of context," "off the cuff" and often not relevant. You need only go to some of entrepreneur group social networking sites and ask advice to prove this one.
As your business rolls out and grows, you will need a board of directors, at a minimum, as a post-fact review group and broad-based sounding board. Often this group is made up the company's accountant and/or lawyer and maybe a trusted friend or advisor. While these folks will have a fiduciary responsibility to the shareholders, early on that's probably just you and maybe a few of your colleagues or family members (who may have put some money up). Later, that will get more complicated, but let's just concentrate on starting.
Often, though companies make the mistake of trying to have both, when they can actually combine the best of both, reducing complexity and noise.
If your plan is that your advisors are going to be an active sounding board and part of helping you set and implement the strategic direction of the company, then you might think about forming a small board of directors with no more than three or four individuals, to keep it manageable. (You can add your accountant or lawyer, but, frankly, unless they really understand your business, they won't add much and you can always invite them to board meetings.) You should further consider three things in your selection - geography, experience and compensation. Let's address each one.
Geography in your proposed directors' role is very important, because you (and they) would want frequent face time to help effect the strategies and plans in which they would be involved, especially in the early going. So you want them within a reasonable geographic radius from where your company is. Plus, you avoid either the director having to "eat" travel expenses or the company incurring those expenses (see my comment on cash flow below).
Experience is a given, but don't make the mistake of either a "big name" or a "big company" guy (or gal). I have learned, in creating and serving on boards for more than 30 years, that for startups you need former entrepreneurs, who "have been there." Specifically, you should look for advisors with expertise in taking products to market, establishing strategic relationships, raising money or developing/executing various business strategies for small companies. All of these are critical skills, plus most former small businessmen have strong feelings about the importance of managing cash. That is one of the most critical skills.
Finally, relative to compensation, as per my previous comment about free advice, there needs to be compensation, but, if possible, keep cash payments to a minimum. It can be all over the lot, but that said former entrepreneurs, with their respect for cash flow, will, more often than not, accept mostly, if not all, "paper" compensation - i.e., options, warrants, etc. (so long as they are delivered in such a way as to not create a taxable event for the director - your accountant can help with that). Two good things about this form of compensation. First, it means that what the board member is bringing to the table is being respected. Second, it means that board member also has a "stake" in the success of enterprise. Between these two elements, it also means that you can, virtually, tap this advice, whenever and wherever necessary, and that will be invaluable.
Go find that gray hair...and use it to your best advantage!
"The Entrepreneur's Yoda knows these things. He's been there. May success be with you!
Jun 1, 2011
by