Are You Making It Easy for Customers to Do Business With You?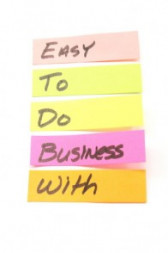 Obviously, small business success begins and ends with the customer. Especially in difficult economic times like these...every qualified prospect is a potential customer and every current customer has the potential for more sales, to be viewed as "precious gold" to the entrepreneur's business. Yet many small companies, as their success brings growth beyond "every customer on a first name basis" stage, unwittingly, make it extra difficult for prospective or even current customers to do business with them. And it's so easy to overlook some very obvious signs. Here are some key questions to ask yourself regarding how your company treats prospective and current customers:
When's the last time you reviewed how all of your "customer facing" functions interact with your prospects or customers? Not just sales and marketing or customer service, but billing (and collections!), your website, right down to how your phone gets answered and what's on your voice mail message?
How easy is it for customers to get samples or test your product? While no product sells itself, your chances sure improve if a prospect can get to see how your product performs, "up close and personal." So, make it as easy as possible to get your products into a prospective customer's hands.
Do you take current, long-time customers for granted? ...by not providing your customer service people with up-to-date information about the customer and their account when they call in? Nothing frustrates a long-time (or high volume) customer more than not being acknowledged as "special."
Do you track how often a company representative (officer, sales person, account manager/field support, etc., calls on current customers? Current customers still remain the best and shortest-term opportunity for new and additional sales. Are you capitalizing on or ignoring this opportunity?
Is your website customer friendly? Or so chock full of technical wizardry that only the most technically competent prospects or customers can navigate it? When's the last time you tried to use it and with what success? The owner/CEO test is almost always the best one.
Do you track "left carts?" If you sell through e-commerce on your website, do you track how often and why prospective customers leave the website without buying, even though they put items in their cart? Perhaps, in your concern with security you're making it really hard for them to pay you.
These are just a few of the key things to consider in order to ensure that you're company is "customer-friendly," and is creating the environment for additional business success.
"The Entrepreneur's Yoda" knows these things. He's been there, May success be with you!
Apr 4, 2011
by